The Seafarer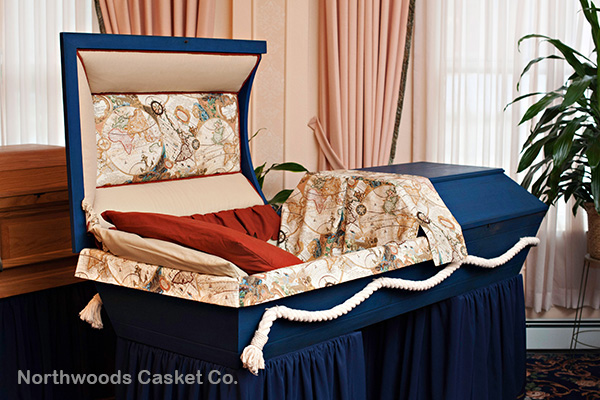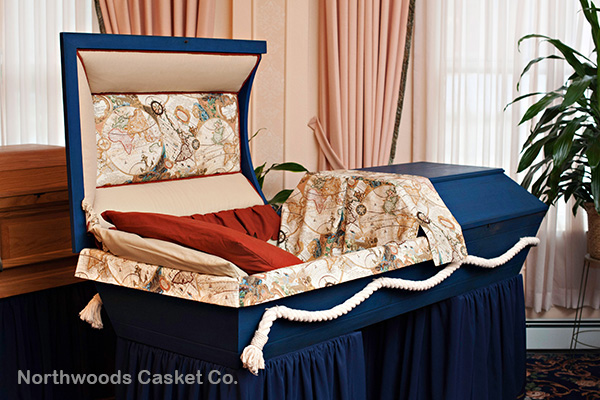 The Seafarer
Style: Historic jewel shape with white cotton rope handles
Material: Wisconsin pine
Color: Blue Ocean
Finish: Milk paint, Dark raw tung oil
Upholstery: Tea-dyed cotton, Maritime themed cotton print
"The sea is everything." --Jules Verne
Recorded in the Exeter Book, one of four surviving books of Old English Poetry, The Seafarer is a poem composed of significant sapiential material concerning the definition of wise men, the ages of the world, and the necessity for patience in adversity.
It is told from the point of view of an old seafarer, who is reminiscing and evaluating his life as he has lived it. It consists of 124 lines, followed by the single word, "Amen".
Inspired by the deep textured blue of the ocean, this casket has been hand-brushed with 3 coats of milk paint followed by 2 coats of dark raw tung oil. The maritime inspired interior and handles make this a one-of-a kind historic shaped wooden casket.
Plant it Forward.
Pledge to use any of our caskets in your end-of-life plan and we'll plant 100 trees at our next annual planting. Your pledge costs nothing and takes 5 minutes so Pledge today.