Simple Pine Box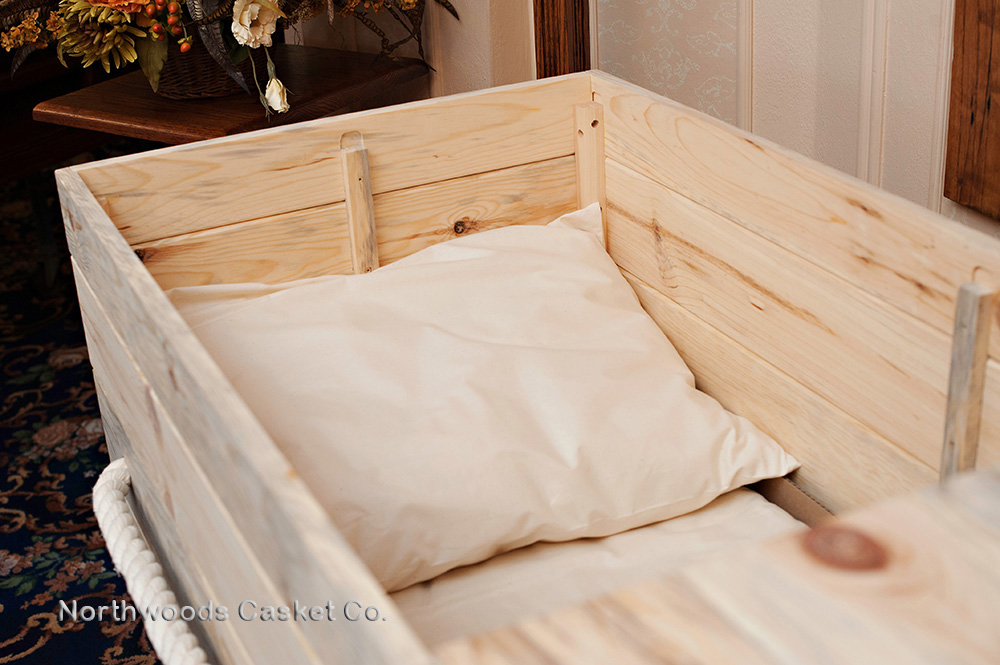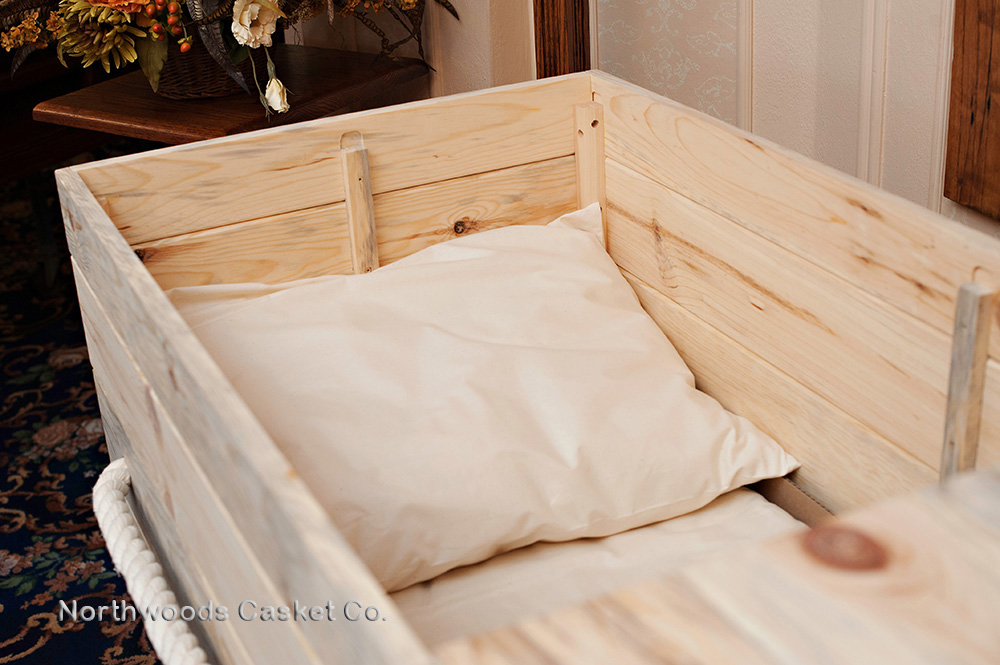 sold out
Simple Pine Box
Style: Tongue & groove
Material: Air-dried Wisconsin pine
Color: Bluestained pine
Finish: None
Upholstery: Natural cotton
Interior (in): 76 1/2 x 24 x 16 1/2
Exterior (in): 81 1/2 x 29 x 18 3/4
The Smartest Casket on the Planet.
Twenty-seven. That's how many prototypes precede the creation seen here. This modest pine box has been designed to be assembled with common household tools and without clamping, jigs, or complex machinery. If you're up for the task of building your own, this casket is available as a do-it-yourself casket kit. Load tested beyond 1000 lbs.
100% metal free. The rib and dado design is simple, strong, and allows for removal of the screws for a 100% metal free casket ideal for natural burial in conservation cemeteries. Also suitable for cremation.
Carbon footprint? Negative. Sustainably harvested pine lumber air-dried in the northern Wisconsin summer winds make the overall carbon footprint of this casket less than 50 lbs. of CO2e. The 100 seedling trees that we plant for every casket we build will sequester more than 200 lbs. of CO2 this year. More next year. So this casket is carbon negative today--no waiting.
The natural bluestained finish uses no chemical, no toxins, zero VOCs. It is actually the warm summer air that allows fungus to grow on the surface grain of the lumber when stacked wet. For three to four weeks the fungus is allowed to grow. It does not eat or otherwise decompose the lumber. But when sticker-stacked for air-drying the fungus will die leaving behind a collection of hues from warm sunset colors, mocha and chocolates, to blues and greens. Nature paints the prettiest colors.
Biodegradable and compostable. The interior is composed of three cushions and one pillow stuffed with natural cotton batting we order in a 600 lb. bale from "Butch" who runs a 4th generation family cotton farm in rural North Carolina.
Simple. Sustainable. Smart.
Plant it Forward.
Pledge to use any of our caskets in your end-of-life plan and we'll plant 100 trees at our next annual. Your pledge costs nothing and takes 5 minutes so Pledge today.